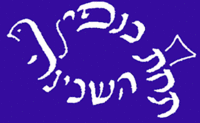 The Center for Conversion to Judaism (CCJ), located at Town and Village Synagogue in Manhattan, offers a variety of programs and courses for those wanting to learn more about Jewish beliefs, values, history, and heritage. In addition to courses, the Center provides a wide range of religious and cultural experiences for participants. These include weekend retreats, Shabbat and holiday workshops and meals and courses in Hebrew and synagogue skills. Support groups for those contemplating conversion, for those who have actually converted and for their partners are an important feature of the Center's program.
Grant Highlights:
Increasing Publicity and Expanding Programs
Some of the grant money will be used to fund three CCJ open-house breakfasts so that rabbis, Hillel directors, representatives from JCC's and the Y's can become familiar with the CCJ program and recommend it to interested individuals. Other money will be used for a printed brochure and additional programming.  
The director of the program, Rabbi Bronwen Mullin, reached out to us to find out more about the types of programs that NCEJ funds. NCEJ is delighted to provide some of the funds that will help her promote CCJ to a wider audience.
---
Got A Program Idea? Contact Us Today
---
We'd Love to Hear from You
If you have an idea for a program that you think NCEJ might fund please contact Ellen Gerecht, via email here, or call: 301-802-4254.