Our Goal
Unlike virtually every other world religion, Jews traditionally do not proselytize nor does Judaism encourage conversion or even make it an easy process. However today, with increasing assimilation and intermarriage and many Jewish families delaying having children and having fewer of them, the percentage of people identifying as Jewish is shrinking rapidly. For Judaism to survive we believe it must step up efforts to educate non-Jews on how Judaism differs from other religions and how they can benefit from being Jewish.
Judaism will survive only by reaching out to non-Jews and Jews alike, by making every effort to "welcome the stranger into our midst", and clearly communicating what Judaism has to offer. We need to be willing to "blow our own Shofar!"
About NCEJ
The National Center to Encourage Judaism (NCEJ) is a private foundation that funds efforts to help non-Jews, including those in interfaith marriages, to understand and appreciate what Judaism has to offer.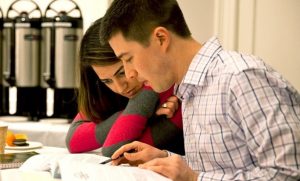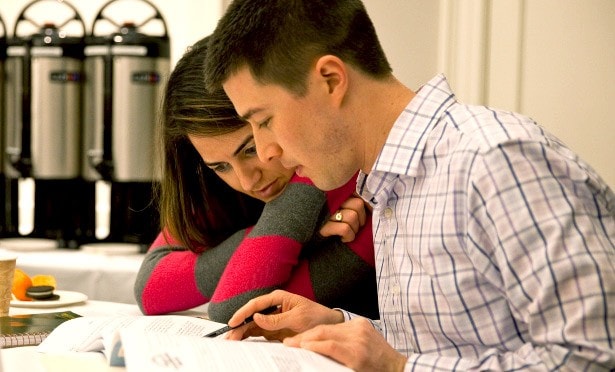 Its ultimate objective is to help Judaism grow by encouraging conversion, helping lapsed Jews rediscover Judaism, and helping those in interfaith marriages see the benefits of raising their children as Jews. To help achieve its objectives, NCEJ offers grants to synagogues and other organizations that sponsor programs teaching non-Jews in their communities about Judaism.  Learn more about grants
NCEJ was founded in 1995 by Ash and Gloria Gerecht of Silver Spring, MD to encourage synagogues to grow membership by reaching out to non-Jews in their community.  For over 20 years, it has provided Jewish organizations throughout the U.S. with hundreds of grants, primarily to offset the cost of advertising "Introduction to Judaism" classes, "Ask the Rabbi" coffeehouses, and other such programs. The foundation has also funded a number of initiatives, including the Gerecht Family Institute for Outreach at Hebrew Union College in New York. This HUC program is designed to help future rabbis and cantors at HUC become more aware of the importance of encouraging both outreach and conversion to Judaism.
Our History
For over 20 years NCEJ has supported synagogues who provide programming geared towards anyone who wants to learn more about Judaism by providing grants for advertising Judaism 101, conversion classes and similar courses. We also sent out the Jewish Proclaimer, a quarterly newsletter, to synagogues nationwide, showing how our grants were being used, and highlighting successful programs. The hope was to encourage more synagogues to offer these types of programs, thereby increasing engagement and eventually the number of Jews by Choice.
Recent Highlights
In the last few years, NCEJ has established a stronger web presence and expanded the scope of programs it funds.
Here are some examples:
International: Jewish renewal in Eastern Europe
Joint Distribution Commission (JDC) is NCEJ's first venture overseas. JDC is developing 2 pilot projects in Latvia and Poland geared towards people who are just beginning their Jewish journey.
National: Grants to umbrella organizations for outreach sub-grants to affiliates
During the last several years NCEJ has given grants to the following national groups.
Federation of Jewish Men's Clubs: for their keruv initiative—welcoming websites and other programming directed towards interfaith families. We gave out over 20 grants for $1,000 each during the 2016-17 year.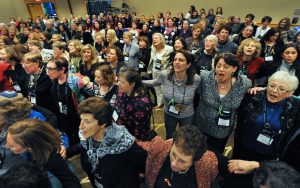 Women of Reform Judaism (part of Union of Reform Judaism): for outreach grants to chapters. They offered outreach grants of $1,000 each publicized through an email list, online, and at conferences.
Jewish Federations of North America (JFNA): their program provides five $5,000 programming grants to smaller communities nationwide.
Rabbinic Assembly-Conservative Movement: provided marketing grants to member synagogues for Judaism 101 and conversion classes.
Union of Reform Judaism (URJ): provided marketing grant that was used to increase advertising for intro classes in selected cities and also to develop a social media campaign that drove people to the URJ website where they could sign up for Taste and Intro classes.
Local: Individual Federations and JCCs
NCEJ's new initiative to federations and other larger nonprofits started in Fall 2017. Grants to these organizations can be as high as $5,000 depending on the scope of the program.
JCC of Greater Pittsburgh: funded series of family camps focused on specific holidays and featuring experiential learning. NCEJ funding enabled additional advertising to attract more participants.
Jewish Federation of Greater Indianapolis: NCEJ funded a taste of Hebrew program for the community.
Raleigh-Cary Jewish Federation: NCEJ funded a "Jewish Journey and Beyond" program.
Local: Synagogues and consortium (rabbinic councils and other groups)
NCEJ has expanded from solely covering advertising to reimbursing for other non-salary expenses. It now funds a wider range of programs. Grant amounts generally range from $500-$3,000, depending on the length and scope of the program.
Examples include:
Holiday how-to workshops
Ask-a-Clergy discussion groups
"Judaism for Bluegrass Jews"
Elements of Judaism classes
Conversion classes
Taste of Judaism
Family outreach